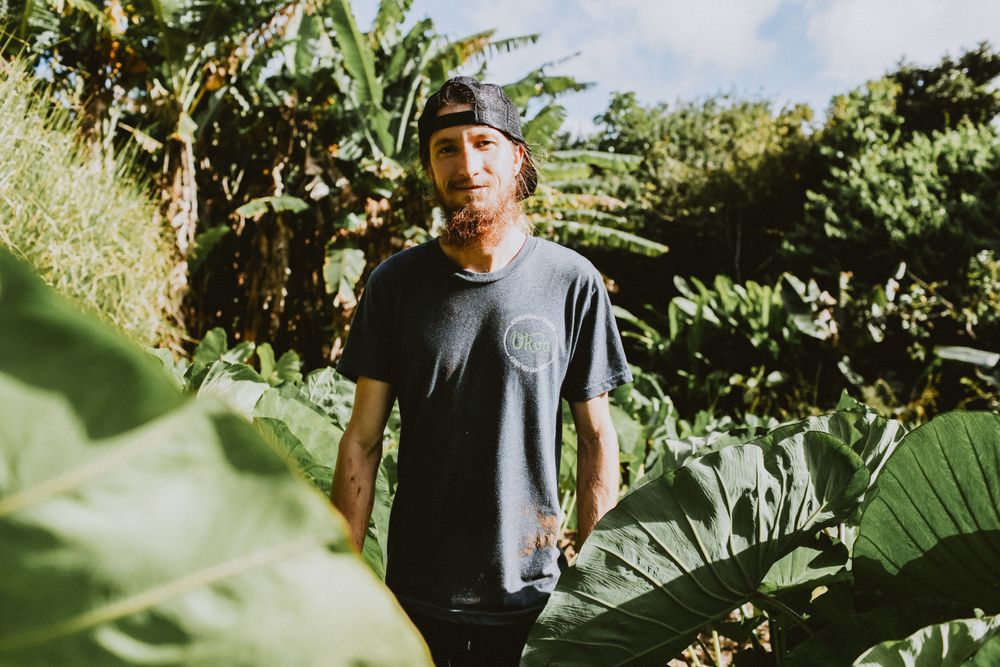 "I like to say I'm a surfer by dawn, farmer and father by day, and a musician at night"-Pat    
 Pat Simmons Jr. is an island-style musician from Maui, Hawai'i, as well as a surfer, farmer, father & Cancer survivor. Offering a diverse blend of American folk-rock, country, blues, and reggae, Pat's music is flavored with a traditional Hawaiian influence. Often performing alongside legendary artists such as his father, Pat Simmons Sr. of The Doobie Brothers, and solo at home; he is recently joined on stage by Nor-Cal locals, Sam Frey on bass and Adam Frey on drums. The trio opens up room for Pat's tasteful bluesy electric guitar playing and beautiful, soulful vocals; expressing simple messages of conscious, social & environmental revolution. The band echoes some of Pat's influences like Jack Johnson & Xavier Rudd. Pat Simmons Jr. is a 2018 Nā Hōkū Hanohano Awards finalist in Hawai'i for his 2017 debut E.P. "This Mountain". 
Released in 2017, "This Mountain" was nominated for 2 Nā Hōkū Hanohano Awards in 2018: E.P. of the Year & Most Promising Artist. Featuring award winning Hawaiian artists, Keali'i Reichel and beloved local bluesman, Willie K., "This Mountain" is an island life inspired folk rock blend. Pat's father, Pat Simmons Sr., founding member of The Doobie Brothers, co-produced the E.P. on Maui and performed on several tracks. The album features all original songs written & performed by Pat Simmons Jr. and includes guest artists, Elvin Bishop, Hutch Hutchinson (Bonnie Raitt's Bass Player), John McFee (The Doobie Brothers), Bill Payne (Little Feat), and John Cowan (New Grass Revival).
Pat Simmons Jr. was born on the Northern California coast in 1990, but was raised from age 6 on the north-shore of Maui, Hawai'i; a life full of organic farming, surfing, skateboarding, exploring the country, and playing music. He also grew up on tour with his father's band The Doobie Brothers, always joining his dad on stage starting at the age of 2. His mom says he learned to walk on the tour bus and countless fans remember tiny Pat Jr. stepping on stage for the Doobie's encore with a miniature guitar and later, actually plugged in. Pat's music career began as a teen, when he first began opening as a solo act for The Doobie Brothers, along with many other well known artists over the years, including Willie Nelson, Lukas Nelson & Promise of the Real, Jack Johnson, Mike Love, The Wailers, Chicago, Gregg Allman, Don Felder of the Eagles, Steve Earle, Dave Mason, Trevor Hall & most recently John Cowan of New Grass Revival. When he's not performing multiple shows a week on Maui, or traveling on tour with his newly formed northern California based trio (Pat Simmons Jr. Band), Pat lives on the family farm with his wife and child, homesteading, and running a small-scale organic farm/reforestation project. He uses music as a tool for activism and education concerning environmental/ocean health, cancer awareness, Hawaiian culture and ecologically conscious living with Permaculture ethics. Walking his talk on and off the stage, he carries the message and values of Aloha 'Āina (Love for the land). He feels the responsibility to practice and perpetuate traditional indigenous values and knowledge as a guest and steward of the land. Pat is part of a culturally diverse community of islanders in Hawai'i who care for the natural environment through simple living, eating well from the abundance of the land. A graduate of The Evergreen State College in Olympia, Washington, Pat earned a degree in Ecology in 2012, with a diverse and synergistic focus on Forest Ecology, Soil Biology, Permaculture Design, Regenerative Agriculture and Ethnobotany. In the fall of 2013, at the age of 23, Pat was diagnosed with testicular cancer and endured three months of chemotherapy treatment. It was a tough time, but he came through it with grace and lots of support from family, friends and great natural care with organic food and Chinese/herbal medicine to rehabilitate his body. He has been cancer free for nearly 5 years and wrote many songs while recovering; sitting on the front porch with his dogs. 
Some Notable Performances in Order:  
-Toured opening for The Doobie Brothers 2007, 2009, 2010, 2014, 2015 & 2017  
-Performed at Deniliquin Festival Australia 2014  
-Opened for Trevor Hall on Maui 2015 & 2016  
-Opened for Xavier Rudd on Maui 2016  
-Performed at Kaua'i Homegrown Festival 2016  
-Opened for Paul Izak on Maui 2017  
-Opened for & performed with Lukas Nelson & Promise of the Real on Maui 2017 & 2018  
-Opened for Steve Earle on Maui 2018  
-Performed with Lily Meola at Concert For Our Lives on Maui 2018  
(Jack Johnson, Willie Nelson, Steven Tyler, Mick Fleetwood, Kris Kristofferson)  
-Opened for Particle Kid Trio on Maui 2018  
-Performed at the Na Hoku Hanohano Awards Ceremony Honolulu 2018  
-Opened for Mike Love on Maui 2018  
-Toured opening for John Cowan of New Grass Revival 2018  
-Opened for & performed with Dave Mason on Maui 2018  
-Performed with Mick Fleetwood & Wille K. on Maui 2018  
-Performed with G. Love on Maui 2018  
-Opened for Judy Collins on Maui Jan. 2019  
-Opened for Tavana on Maui Feb. 2019  
-Opened for Lukas Nelson & Promise of the Real on Maui April 2019